It's free to set up a profile and start building your business on Rate-My-Agent.com.
How does Rate-My-Agent.com help build my business?
Can I, as an agent, copy reviews from other review platforms?

No, it is against Rate-My-Agent.com's policy to copy reviews from other platforms.  In fact, Rate-My-Agent.com considers this cheating and there are strict penalties.  Here are the reasons for this:

1. We have no way to verify that the other platform properly verified the review.

2. Rate-My-Agent.com collects a lot more information about the transaction than other platforms.  Allowing agents to assign their own ratings for each rating dimension does not align with our purpose of providing real, true, verified reviews.

3. Many agents think the testimonials they collect are reviews.  They're not.  The public does not trust testimonials because they know at best, they're handpicked and at worst they're completely falsified.


How are reviews verified?
1. Reviewers are required to confirm by email that their review is true, accurate, and they take legal responsibility for the content of the review. 2. Spam and other false reviews are identified by our system and removed. 3. Report a review by sending an email to the admin at Rate-My-Agent.com. Please refer to our Review Guidelines for a detailed explanation.


Can I report a review?
Yes. The first step is to reply to it. This will put it in queue for verification.


How much does a profile cost?
$0. There is no cost for a profile. There is a Premium Profile you can subscribe to for access to premium features. Log in to your account to subscribe.


Why was a review removed from my profile?
It did not pass Rate-My-Agent.com's verification standards. Many agents have tried to cheat by posting fake reviews. Rate-My-Agent.com has a system to identify and remove fake reviews. You can refer to our terms of use under prohibited content.


Where are my missing reviews?
Either we removed the review or the client did not click the confirmation link we sent them via email.


Can I remove my profile?
No. That would defeat the purpose of having a public forum to post feedback and reviews. You cannot remove your profile from other review sites like Yelp or TripAdvisor either.


How can I edit my profile?
Claim your agent account to edit your profile by clicking the red 'Claim Your Agent Account' button on your profile. If it does not appear, the profile has already been claimed. If you do not remember your login, you can use the 'Forgot your password?' link on the login page.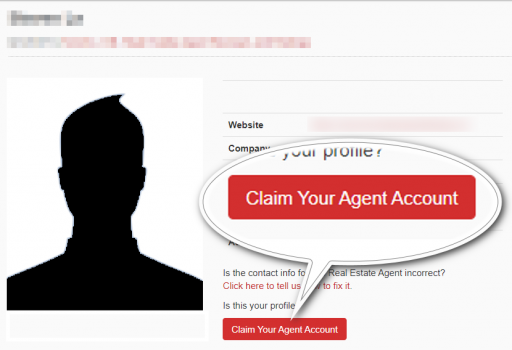 Can I register as a brokerage?
No, however… there is a field on agents' profiles to declare their brokerage office. If you have many agents in your office that you'd like added to the site, you can email admin at Rate-My-Agent.com and we'll send you an xls template to complete and send back.


How does the response rate work?
The response rate indicates what percentage of reviews the agent has replied to. It's an important measurement because people want to know an agent is active on the platform and will reply when they reach out and that the agent pays attention to feedback posted on Rate-My-Agent.com.


How can I increase my response rate?
You can increase your response rate by replying to reviews made by your clients. Click the 'Review Reply' button just below the review to post your reply. Your response rate will be 100% if you've replied to all the reviews on your profile and 0% if you haven't replied to any of the reviews.



Is there a time limit to when I can reply to reviews?
No. You can reply to reviews any time, even reviews from years ago.


What's a Premium Profile?
We update the features of the Premium Profile regularly. Log in to your account and learn more about the Premium Profile subscription and how it will get you more prospects while saving you time and effort.


How can I post my reviews on Facebook?
You can only post reviews on Facebook if you have a Premium Profile. Click the "Share on Facebook' button just below the review you want to share. You will be redirected to the Facebook sharing window and log in to your Facebook account (disregard if already logged in). You can share on your personal FB account or on the page you manage. To post on your business page, click the drop-down menu on the top and select the option of where you want to share it.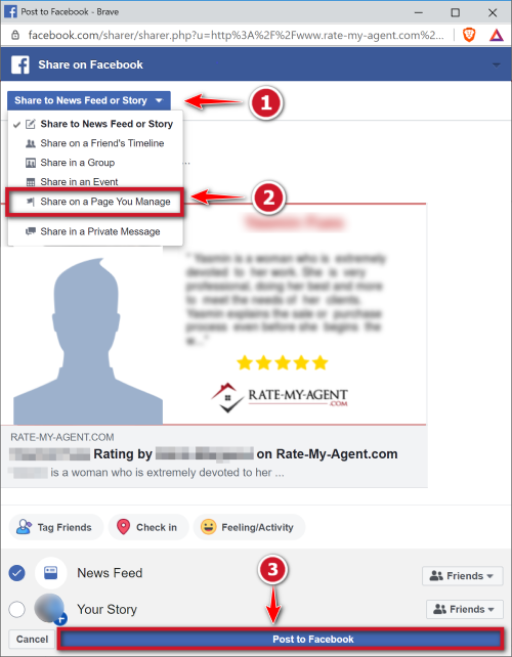 Does sales volume impact the rankings?
No, sales volume is not taken into account in Rate-My-Agent.com's rankings.  The rankings are strictly determined by ratings and reviews.


It's free to setup a profile and start building your business on Rate-My-Agent.com.